SEO Tools for Shopify
Audit your store for SEO issues. Optimize to rank higher. Reach more customers. Works with any theme.
Improve your Shopify store SEO
The SEO Doctor app offers a wide range of SEO tools for Shopify designed to scan your store for issues and help you increase your store's ranking and organic traffic. With both manual and automated options available, SEO Doctor offers the flexibility to be as hands-on or -off as you'd like.
Reach more customers
"Build it, and they will come" regrettably does not ring true when it comes to your online store. Search engine optimization is essential for any business to be found by customers online.
SEO Doctor helps ensure you're putting your best foot forward. It scans your store for SEO issues and then provides recommendations outlining what you need to do to fix them and improve your chances of ranking higher on search engines.
Knowledge Base
Find answers to frequently asked questions and tutorials for how to set up SEO Doctor in our knowledge base.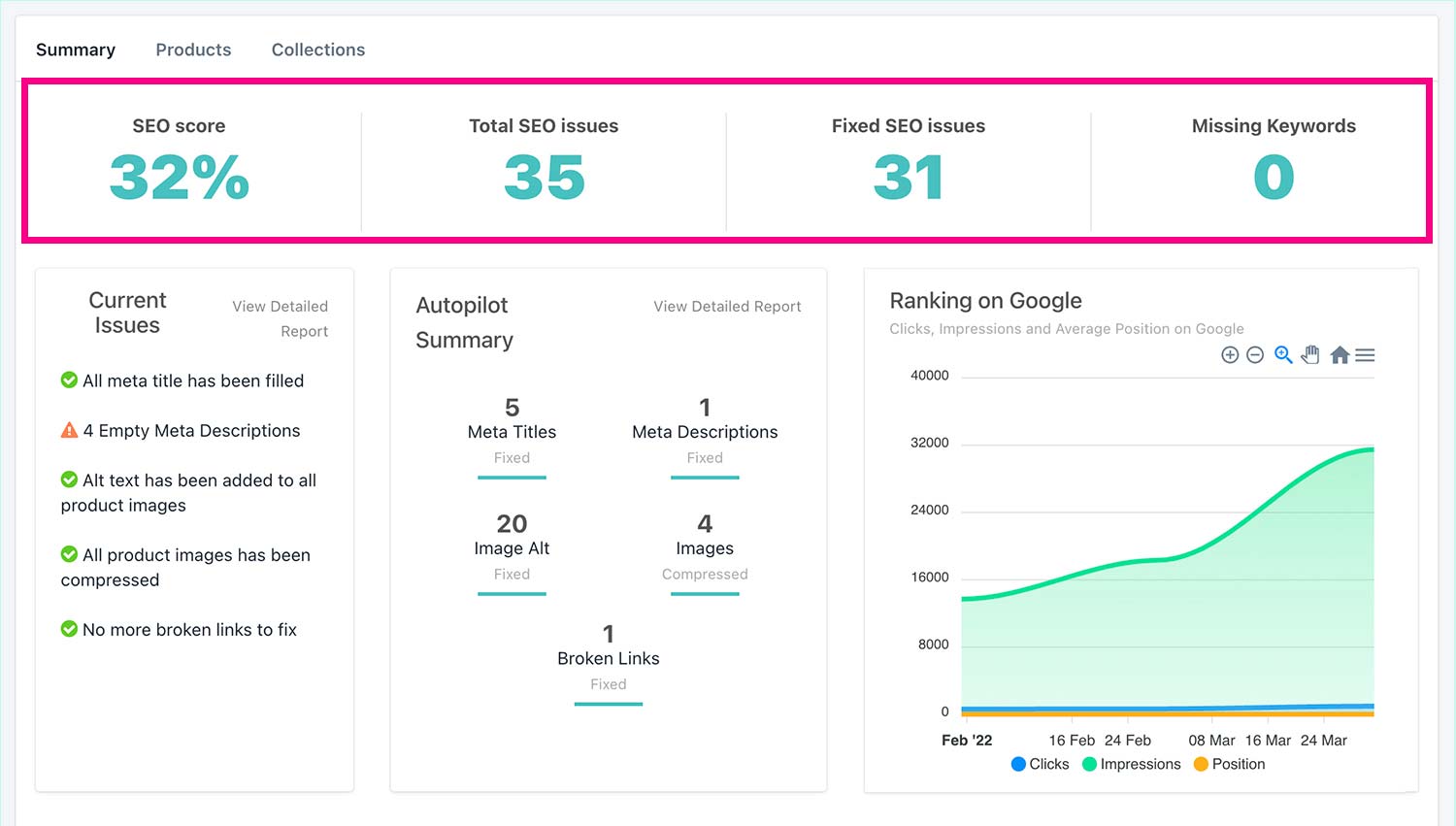 SEO Health Dashboard
The dashboard highlights the overall health of your store as well as a summary of current and fixed issues.
Save time with autopilot
The world of SEO is deep and often overwhelming for beginners. And if your store contains hundreds, if not thousands, of products the task of optimizing your entire store manually can seem impossible.
However, SEO Doctor allows you to configure the app to automatically fix all current SEO issues and future SEO issues that might come up as you add new products to your store. This can save you dozen, if not hundreds of hours and act as a great starting point for the optimization of your store.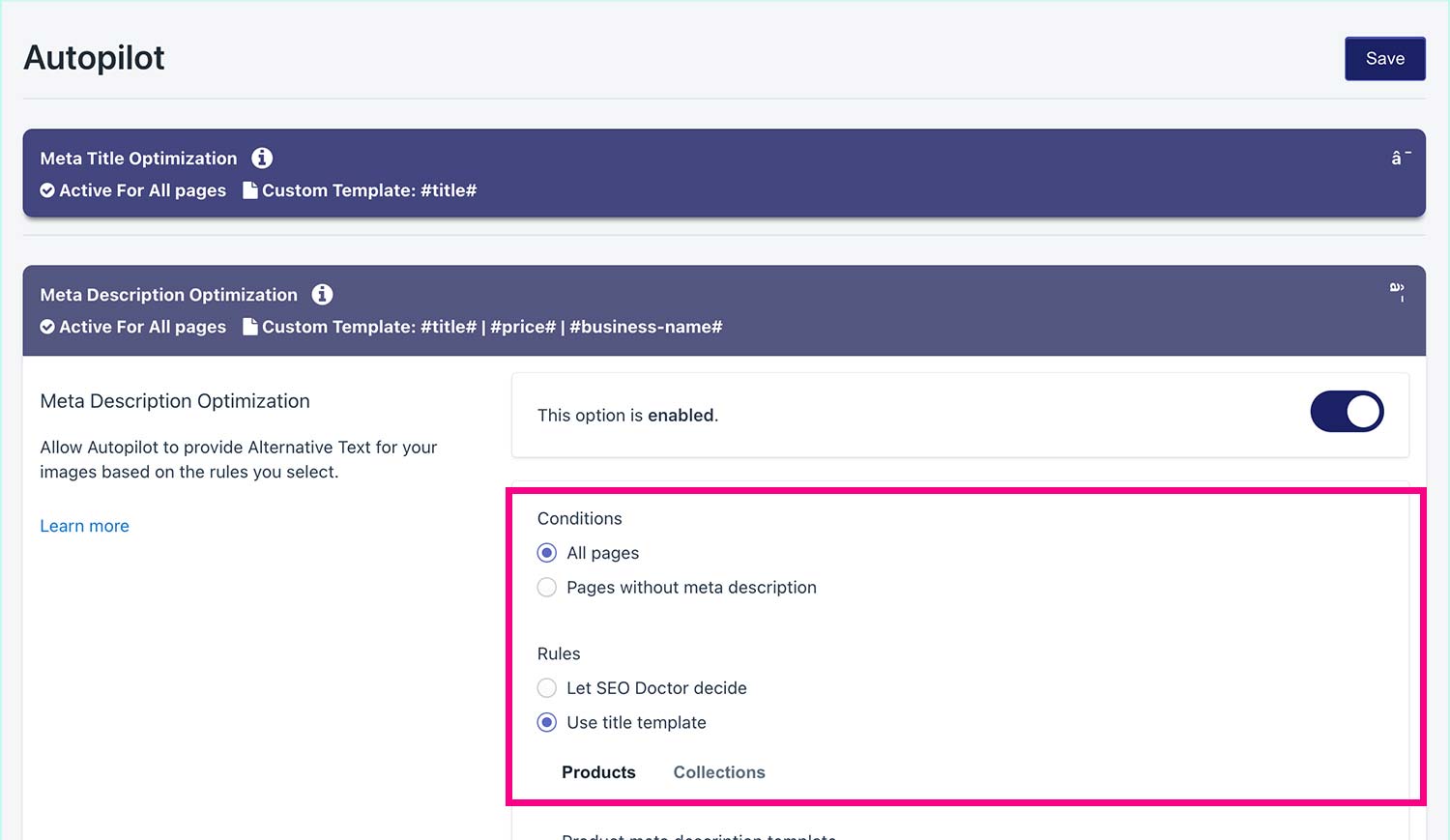 Automated SEO Optimization
Alongside manual fixes, you can automate many SEO fixes based on conditions and rules you set.
Manage your SEO from one central location
SEO Doctor offers an all-in-one suite of SEO tools. They cover everything you need to audit and optimize the key components of your Shopify store's on-page and technical SEO.
Tools to update meta titles, meta descriptions, alt tags, compress and rename images, fix broken links, and more are included.
Results you can trust
"I've been using the app for a few months as part of a bigger strategy to review my SEO. My overall opinion of the app is that it's really good … SEO is a minefield and I think this app has definitely been an important part of my web strategy."

"I tried a few SEO Apps, but this one stands out to be the most effective, simple with amazing results. Great Support team! Thank you!"

Start fixing your SEO
2. Setup app
After a three-step guided introduction, the app will sync all of your products and collections. If you need assistance, contact the Magical Apps team. We're happy to help.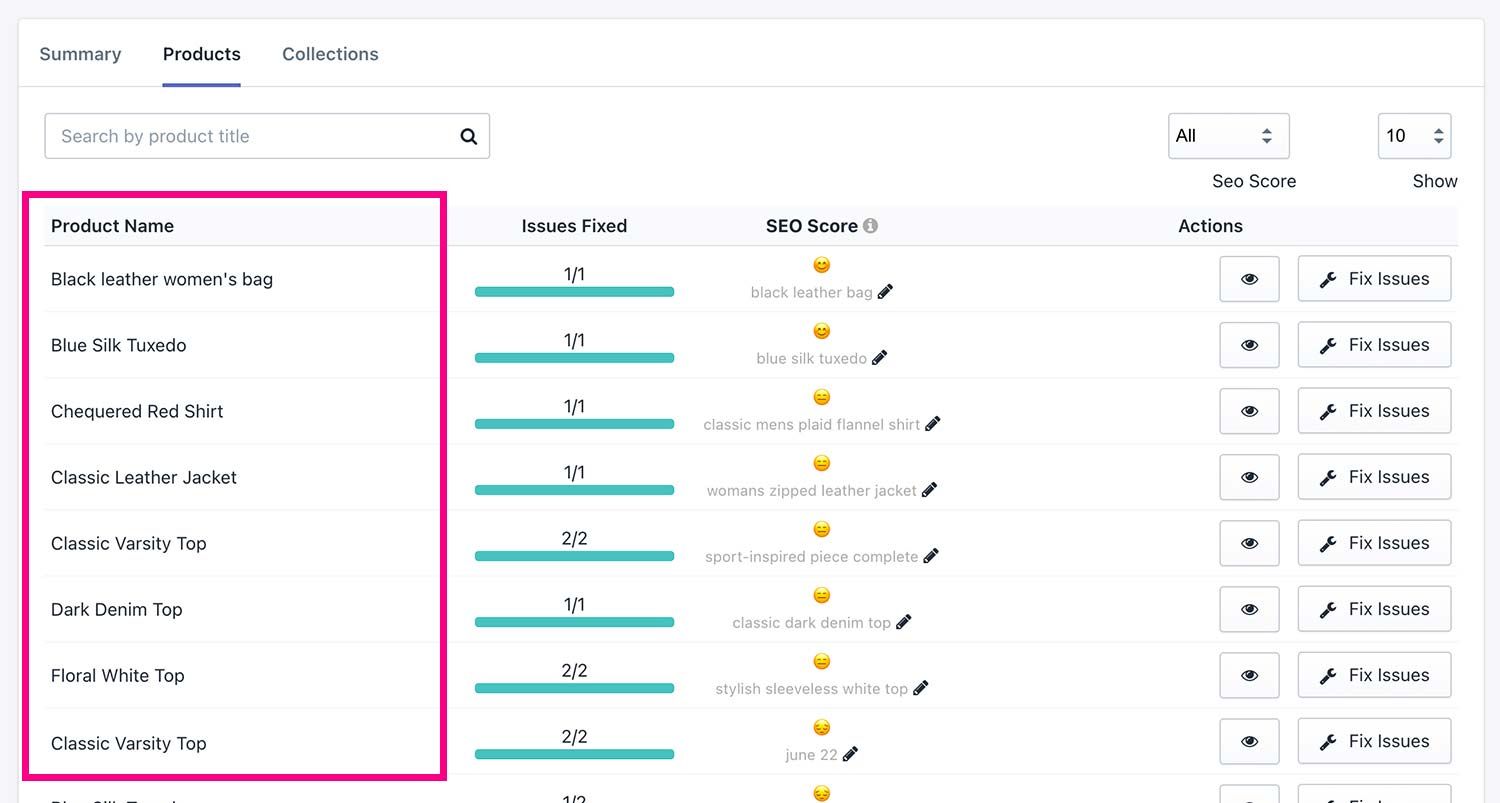 Automated product and collection syncing
Upon installation, the app will automatically sync all of your products and collections to get them ready for auditing and optimization.
3. Start fixing your SEO
After the sync is complete, you'll be ready to start fixing SEO issues on your store.
Get the app today
With the SEO Doctor app on your Shopify store you'll reach more customers and save time optimizing your store thanks to built-in automation.