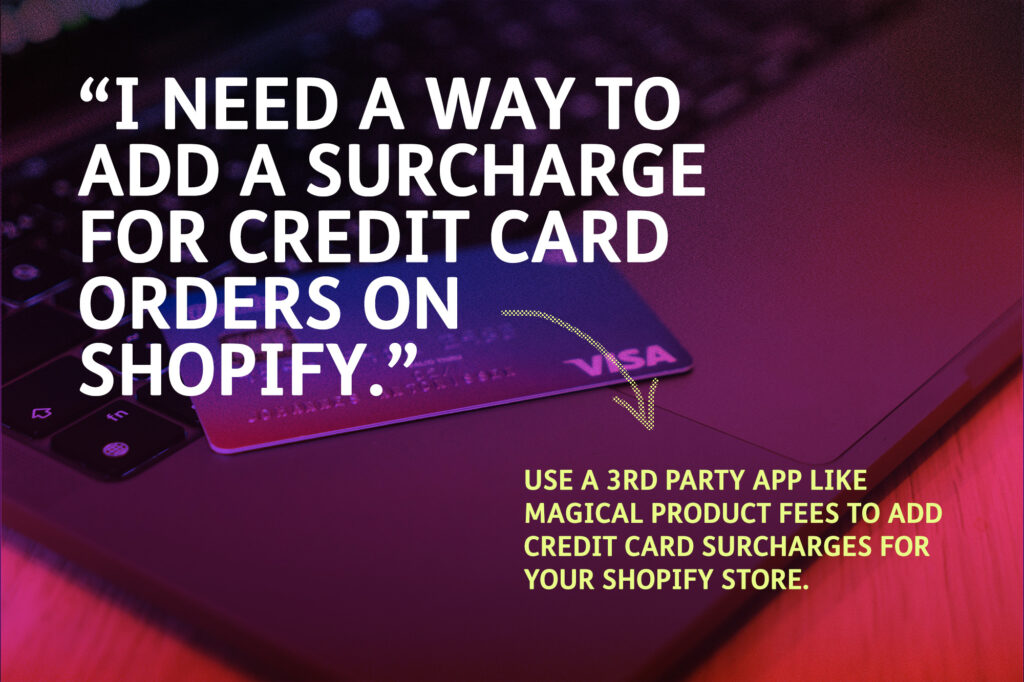 Common Requests from Shopify Merchants
There are countless request on the Shopify support forums Charging A Credit Card Processing Fee, Credit Cards Fees, Credit Card Transaction Fees, Applying Credit Card Fee To Customers, Adding A Credit Card Surcharge.
"I need to find a way to add a 2.7% Surcharge for Credit Card Orders or PayPal orders. I run a wholesale site so adding 2.7% to my price wont help me much as my competition will look like they are cheaper than me. At the same time since i'm working with such small margins I can not eat the credit card fees or i will loose too much profit. Any recommendations?"

– Jcastro Shopify Merchant
"We need to be able to apply a credit card fee to customers that is inclusive of cart AND tax total.

Right now, we have a work around that applies a fee to the cart total – but not taxes. This is also problematic because customers are easily able to bypass this fee option and order with a card anyhow. We are basically operating on honor system, and banking on avoiding human error.

Has anyone been able to develop a means of allocating tax charges to customers?"

– POD253 Shopify Merchant
"anyone know how to make it when a customer selects credit card as the payment method it adds an additional 3% fee"

– Ekay Shopify Merchant
Typical Response from Shopify Support
"As it stands it is not possible to add a credit card surcharge to any of your store orders within the Shopify admin. There is however a couple of workarounds which you can apply to achieve this, one of which comes in the form of an app and the other being via your shipping rates. Let's take a closer look into both of these methods:"

– Nick from Shopify support
Best Solution:
There is currently no native way to charge additional fees on Shopify to recover the credit card processing fees. Some merchants end up building in the cost of the fees into their product prices but that makes their products appear to be more expensive than competitors. Other merchants build in fees to the shipping options on Shopify but this is not a perfect solution as it only covers customers who are shipping products which is not 100% of customers. There is only one good solution to add a credit card processing fee on Shopify.
Use a 3rd party app like Magical Product Fees to credit card surcharges for your Shopify store. Disclaimer: Magical Product Fees app is unable to charge fees based on selected payment method. Fees can be set as a fixed amount or if you are on Shopify Plus, based on a percentage. In both cases, the fees will be applied based on the products they are applicable to; not the payment method.
To give some additional insight on this solution we asked Shopify Store Design and App Development expert John Speed to provide some insight on why this solution is ultimately the best option for most merchants, here's what he said:
"I've built over 250 Shopify stores from simple storefronts for people selling t-shirts to complex builds for paint companies selling thousands of skus. I've spent weeks of my life researching the best ways to add credit card surcharges to Shopify orders. There is no native way to add credit card surcharges. So in my expert opinion the best way to add extras charges for credit cards is through the use of a 3rd party app. Now one last thing to keep in mind. Most merchants want to include percentage based (ex. 2% of the cost of the product or 1% of the total cost of the cart). credit card fees. This is even trickier than adding fixed price fees (ex. Adding $5 per product, or $10 per cart). Since credit card fees are based on a percentage based fee most merchants would prefer to add percentage based fees to their orders to help cover these fees. Shopify does have a unique feature available through the Checkout UI extensions which unlocks the ability to apply % percentage based fees, and or cart based fees to Shopify orders. However this feature is currently only available for Shopify Plus plans (the plan that costs over $2,000 a month) so it's not that viable for every merchant. This is why I stick to my simple and best solution to adding credit card surcharges to an order on Shopify and why you should just use a Shopify app to add credit card surcharges."

– John Speed
Reasons to add credit card processing fees on Shopify
A business may add a surcharge for taking payments with a credit card for the following reasons.
Transaction fees. Credit card companies and payment processors charge a fee for each transaction made using a credit card. These fees can range from 1.5% to 3.5% of the transaction amount and can significantly impact the profit margins of small businesses. In the case of Shopify specially the transaction fees range from 2.4% to 2.9% plus an individual fee per transaction of $0.30.CAD. So by adding a surcharge, businesses can recover some of these costs.
Administrative costs. Accepting credit card payments often involves additional administrative tasks, such as managing chargebacks, disputes, and payment reconciliation. These tasks can increase labor costs for small businesses, making it necessary to add a surcharge to offset these expenses. Many Shopify business owners are solo entrepreneurs so absorbing these administrative costs are a burden to them – and limits their ability to profit and grow their business.
Cash flow management. Credit card payments typically take longer to process and settle than cash or direct deposit transactions. This delay can create cash flow challenges for small businesses that need immediate access to funds for operational expenses. A surcharge can help compensate for the potential cash flow strain a small Shopify merchant may experience.
Encourage alternative payment methods or purchase options. By adding a surcharge for credit card payments, small businesses may encourage customers to use alternative payment methods, such as cash, gift cards, or debit cards, which typically have lower fees. This can help reduce overall processing costs and improve the profit margins for the merchant.
Is it legal to add a credit card processing fee on Shopify?
Shopify is focused on creating the best converting checkout experience.
So does that mean I can't add credit card surcharges on my Shopify store? Well, no – you can. However Shopify wants to ensure that their checkout experience is not compromised through the use of any hidden or undisclosed fees that would lead to lower conversion for customers at checkout. In fact Shopify continues to innovate on their checkout experience with the recent release of their one page checkout "Our faster, one-page checkout experience is almost here! With fewer information fields and page loads, it makes shopping on your site beyond easy for customers."
Credit Card Companies say it is allowed, sometimes.
According to Visa, MasterCard and American Express merchant rules, merchants generally cannot charge you a service fee when consumers use their credit card. However, Visa, MasterCard and American Express permit eligible merchants to charge a service fee (also known as a convenience fee) for certain types of transactions.
Visa, MasterCard and American Express all require that the fee be clearly disclosed to cardholders before the transaction is completed and that cardholders are able to cancel the transaction without penalty.
Note that under the Code of Conduct for the Credit and Debit Card Industry in Canada, merchants may choose to offer discounts for different payment methods, but they are not required to do so.
Business owners often add additional fees to process a credit card transaction.
This is especially common for small business owners. You've probably had this happen to you before if you've ever visited a small convenience store wanting to use your credit card. There is often a threshold 'Minimum Purchase of $10' or 'A fee of $0.50 will be added for credit card purchases".
It's also common for service providers like contractors or repair people to offer one price for cash, debit, or e-transfer payment but to charge an additional amount if the customer chooses to use a credit card.
Psychology plays a very important role in pricing and how much product your Shopify Store will ultimately sell, so it's important to be upfront with the fees if you do choose to add credit card surcharges. It's not a good idea to surprise your customers with add-on fees during checkout.
Quick summary
To add a credit card processing fee or surcharge on Shopify, the best solution is to use a third-party app like Magical Product Fees, as there is no native way to do this within Shopify. Disclaimer: Magical Product Fees app is unable to charge fees based on selected payment method. Fees can be set as a fixed amount or if you are on Shopify Plus, based on a percentage.
Businesses may add surcharges to offset transaction fees, administrative costs, and cash flow challenges, or to encourage alternative payment methods.
While it is legal to add a credit card processing fee on Shopify, Visa, MasterCard, and American Express require that the fee be clearly disclosed to customers before the transaction is completed.
---
Magical Product Fees
The Magical Product Fees app is a fast and easy way to build, customize, and attach fees to products or entire orders.